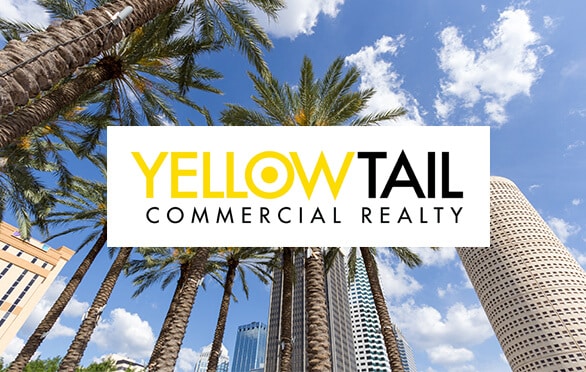 News
Branding in Commercial Real Estate – Why are we Yellowtail Commercial Realty?
Being a new boutique firm in Tampa, Florida, which is filled with heavy hitters in the commercial real estate industry, it was extremely important to get the branding right. and right the first time. Florida Commercial Real Estate is packed with brokers – so it's necessary to stand out.
We are off and running and what a buzz we have created! Time and time again, we are approached by our colleagues in the industry (and even the competition) with consistent recurring comments; like, "I LOVE THE NAME", "LOVE THE COLORS", "LOVE THE BRANDING". (we love it too). But then there's that one question; "Why Yellowtail? Explain that to me?" No problem, let me explain.
Yellowtail is a brand that speaks of dominance, strength, image, success, and entrepreneur spirit. If you know of the Yellowtail Tuna or even the Yellowtail Boat, you would use the words "rocket performance", which pushes "past the fiercest competitor". If you don't know of the boat or the fish, then here is a little lesson for you.
Yellowtail Tuna are strong schoolers and often swim with mixed species of tuna. They are attracted to large floating objects at the surface and tend to stay there as they see it as a "schooling" companion. When Yellowtail swim deeper and farther away from the surface, they swim outside of the school and hunt.
Yellowtail has enduring strength, stamina, and laser focus. Their colors are distinct and dominant.
They are strong daytime hunters.
You ask, what does this have to do with us?  Think of what you would want in a commercial Tampa real estate agency to represent you in effort to sell or help you buy a commercial property. Now reread the two paragraphs above.
The Yellowtail Commercial Agency is just like the boat and the tuna. They are known for unsurpassed quality and sets the standard in their industry. Its diversibility defies comparison. Unmatched attention to detail, versatile, smooth ride and performance, simply nothing else in the market place compares. Now all you have to do is come meet the team, and you will understand completely why WE ARE YELLOWTAIL COMMERCIAL REALTY.